I promise to be back to design posts soon. We've been in mom/baby mode over here this week.
Lots of friends have been having babies so I whipped up some chicken pot pies on Monday... here they are without the tops on (and
the recipe is here
in case you are interested):
On to other mom things. I have a question and need some help/guidance.
Collins is ready to move from his infant seat to a convertible car seat. Which one do you recommend? I've read all of the safety ratings, thoughts, etc. and I narrowed it down to a few and ended up picking up this one yesterday at Target: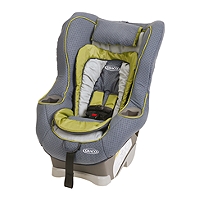 As you've probably heard (it's been
all over the news
this past week since released)--- toddlers are suggested to stay rear facing until age 2. When this seat is installed (rear facing) in my backseat (and I have a large SUV) I have to put my passenger seat pretty far forward to make this fit. Is this seat extra large? Do I need to take it back for a smaller one? I know everyone doesn't have a large SUV so I just wanted to see what car seats you might have/what you recommend? I also looked at the
Graco ComfortSport
(which looks a tad smaller) and the
Britax Roundabout 55
(which seems to be about the same size). I'd love any thoughts... suggestions. Thanks!